Vexventures
Welcome to the home page of Vexventures, a publisher of flag charts and flag consulting services owned by Ralph Bartlett. Vexventures was established in 1993 to complement the activities of Flags Australia by acting as commercial distributor for Flags Australia publications. Flags Australia endorses each of the charts as being of the highest vexillological quality.
Email: vexventures@optusnet.com.au
Phone: (03) 9884 4434 within Australia
International +61+3+9884 4434
Internet: www.flagsaustralia.com.au/Vexventures.html
Vexventures proudly promotes the continued Venturing into new fields of Vexillology by publishing the following flag charts.
The compiler of the charts, Ralph Bartlett, is an internationally recognised Australian vexillologist of many years experience, who has written widely on various aspects of vexillology (the study of flags). Drawing on such diverse disciplines as history, politics, ethnography, sociology, psychology, art and semiotics, every effort has been made to ensure accuracy on every detail of colour, design and shape. The flags are grouped systematically in geographical regions, with a map included to aid location. All flags are accurately and clearly labelled. The author believes that the resulting charts are informative, comprehensive, and of great value, whether for broader political knowledge, educational purposes or general interest. John Edwards, another Australian vexillologist, was co-author of the Flags of Non-Independent Peoples and the Flags of Aspirant Peoples charts, and the concept for the first chart came from Clive Jackson.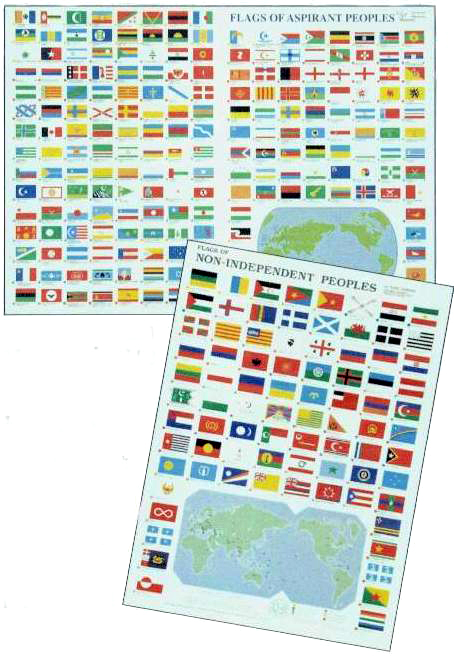 Flags of Non-Independent & Aspirant Peoples
The two charts were originally published separately, Part One as the Flags of Non-Independent Peoples, and Part Two as the Flags of Aspirant Peoples. Together these two flag charts contain 284 different flags and involved over 8 years of research and preparation. These are not flags of established, recognised countries; they are instead the flags of peoples. As such, the flags of these charts do not appear among the flags of the world as typically illustrated in atlases, encyclopedias, flag books and wall posters. This the first time this extraordinary collection of long forgotten or recently re-discovered nations, tribes, minorities, and indigenous, ethnic, political or religious peoples who are oppressed or now newly emerging from oppression has been compiled and made available in a readily accessible format.
Because the principal symbol of a nation or country is its flag, each flag expresses in some way the distinctive attributes of the people who fly it. Thus landscape, mythology, flora and fauna, past history and future hopes are all variously encompassed on a piece of fluttering cloth. These charts display a wealth of different images, colours, shapes and designs. Despite this vivid array of differing styles, all the flags have a common unifying ideal: they are the flags of people without their own sovereign states who seek greater control over their own affairs, ranging from greater local autonomy to independence. Whatever the case, a full understanding of world affairs should include an awareness of the problems posed by the existence of the world's non-independent and aspirant peoples. To increase that awareness is the purpose of these Charts.
Flags of Non Independent People: Sheet size A2 Number of flags: 82
Published by Flag Society of Australia, December 1990
Flags of Aspirant Peoples: Sheet size A1 Number of flags: 202
Published by Vexventures, April 1994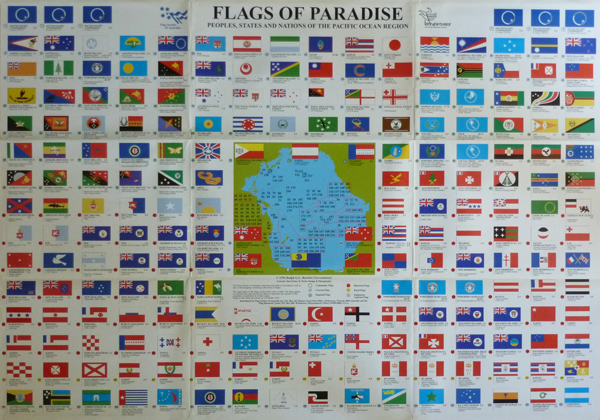 Flags of Paradise: Peoples, States and Nations of the Pacific Ocean Region
Flags of Paradise is the first chart devoted entirely to the present and past flags flown in the Pacific Ocean and involved 5 ½ years of research and preparation. In total 214 flags are shown in correct graphical proportions with an identity number showing the flag's location on a central map of the Pacific.
When Europeans first arrived in the Pacific Ocean, many thought that they had arrived in "Paradise" (idyllic islands, beaches, fresh fruit). The many bright colours of "Paradise" are portrayed in a great many of the flags shown on this chart, especially the internal regional flags of several of the Pacific nations. A significant number of these flags have, as far as the author knows, never before been published on a chart. Flags of Paradise is designed to show the history and current usage of flags across the Pacific Ocean region. The chart consists of current flags, naval and merchant flags, internal regional flags, co-operation flags, historical flags (including colonial flags), royal flags and separatist / aspirant flags, thus creating a comprehensive "Paradise" of colours flowing across the vast waters and islands of the Pacific Ocean region.
Flags of Paradise: Sheet size A1 Number of Flags: 214
Published by Vexventures, December 1996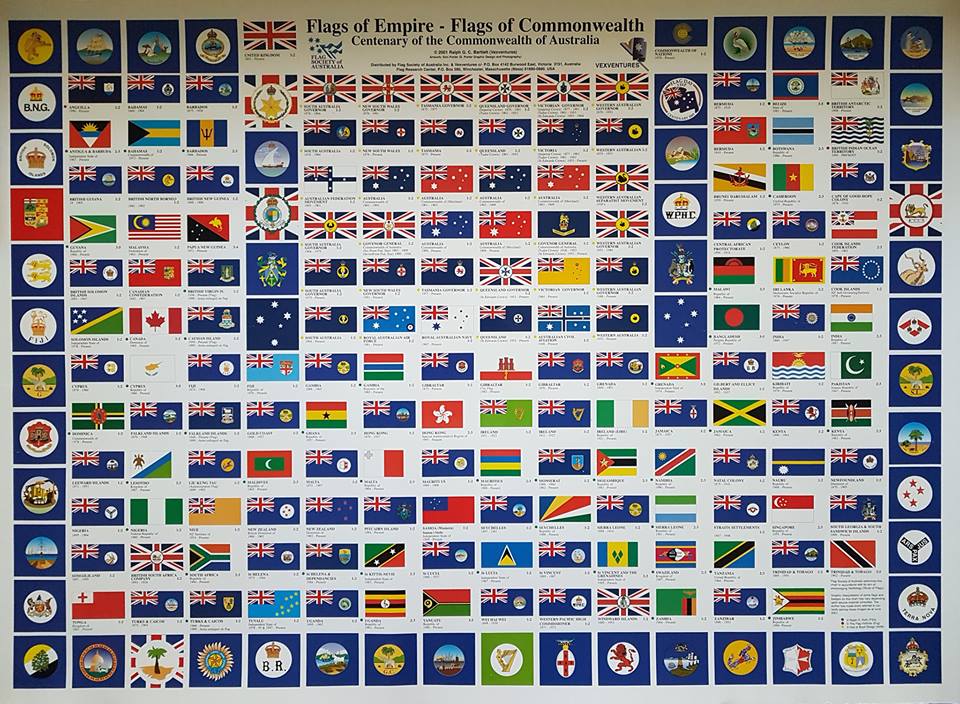 Flags of Empire – Flags of Commonwealth

: Centenary of Australia's Federation 1901 – 2001

This chart celebrates the first 100 years of the Australian National Flag and the use of the British Union Flag in 30 national, state and vice-regal Flags flown between 1901 and 2001. It also acknowledges the origins of the Australian National Flag, derived from the British Admiralty's basic design directives for colonial and Dominion Flags, i.e., the Union Flag and a local design feature elsewhere on the flag.

The chart was published in July 2001, after 10 years research and preparation by Melbourne-based vexillologist, Ralph Bartlett. This chart also celebrates Australia's place in the then British Empire in 1901 and now 100 years later as a proud independent nation as a member of the (British) Commonwealth of Nations in 2001. These two features are portrayed on the chart by showing 52 British ensign-based colonial flags flown in 1901, together with their equivalent 68 national and remaining colonial or territorial flags 100 years later, which form the Commonwealth of Nations. Surrounding the outer edge of the chart are 54 enlargements of the British ensign flag badges. This makes a total of 205 diagrams.


Flags of Empire - Flags of Commonwealth: Sheet size A1 Number of Flags and badges: 205
Published by Vexventures, July 2001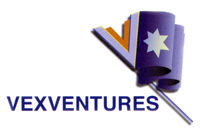 VEXVENTURES
Venturing into new fields of Vexillology

To order these charts, please complete the form below and post with payment to Vexventures.
| | |
| --- | --- |
| | Vexventures |
| | ABN 79 210 652 969 |
| | PO Box 5245 |
| | Pinewood VIC 3149 |
| | Australia |
All charts are posted rolled (not folded) by normal mail within Australia and air mail to international destinations.
Higher prices apply to international orders, due to higher postage costs.
NAME

MAILING ADDRESS

PHONE (optional)

FAX (optional)

E-MAIL (preferred)

SIGNATURE

DATE:
PRICE PER CHART

NUMBER

PAYMENT

For Posting to Australian Addresses:

Flags of Non-Independent & Aspirant Peoples (2 flag charts).

A$40

Flags of Paradise Chart

A$35

Flags of Empire – Flags of Commonwealth Chart

A$40

For Posting to International Addresses:

Flags of Non-Independent & Aspirant Peoples ( 2 Flag Charts).

A$55

Flags of Paradise Chart

A$40

Flags of Empire – Flags of Commonwealth Chart

A$45

TOTAL PAYABLE:
PAYMENTS SHOULD BE MADE BY CHEQUE, MONEY ORDER OR INTERNATIONAL BANK CHEQUE (drawn on an Australian Bank) to:
RALPH BARTLETT trading as VEXVENTURES
Vexventures is registered for GST, which is included in the price payable for charts posted to Australian addresses. This form, when completed, constitutes a Tax Invoice.
Unfortunately, Vexventures is not in a position to accept payment by Credit Card.
Paymement can be made by PayPal by logging into your PayPal personal account at www.paypal.com.au. Go to Send Money and email funds to vexventures@optusnet.com.au. Funds can be remitted in Australian Dollars even if your account is notionally denominated in US$ or another curency
Note: Responsibility for the contents of this page is taken by Ralph Bartlett of Vexventures.