THIS IS AN ARCHIVE OF THE ICV26 WEBSITE - IT HAS NOT BEEN UPDATED FOR WHAT ACTUALLY HAPPENED OTHER THAN TO ADD THE PROCEEDINGS
The Proceedings for the 26th ICV have now been published. They are available on-line at http://www.flagsaustralia.com.au/Proceedings.html or click here. They are also available as a USB memory stick, and these have been posted to all participants of the ICV who have provided us with a current mailing address. The front cover of the Proceedings is: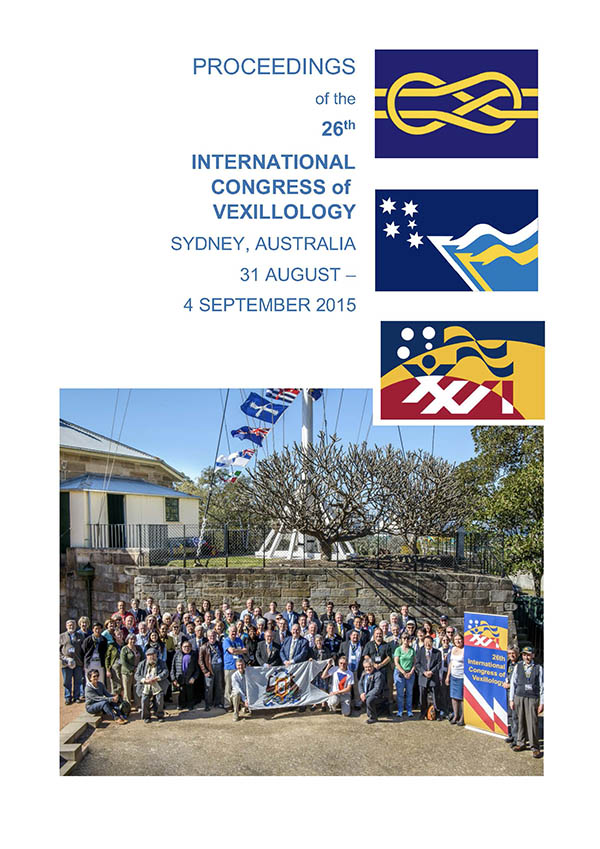 26th International Congress of Vexillology
ICV26 is a meeting of the world's flag experts to be held in Sydney, Australia in September 2015. Vexillology is the study of flags and every two years vexillologists gather to share their interest and knowledge about flags. The International Congress of Vexillology is a week-long event that consists of lectures on a diverse range of flag topics, exhibitions, excursions to flag related sites and simply catching up with friends with a shared interest.
The International Federation of Vexillological Associations (which is usually referred to by its French initials: FIAV - Fédération Internationale des Associations Vexillologiques) has requested Flags Australia to host the 26th International Congress. We look forward to welcoming you in 2015 and expect that you will enjoy a visit to Sydney, the gateway to Australia.
Details of the Sydney Congress are set out below with more detailed information on various web-pages accessed using the menu in the side panel.
DATES:

Monday 31st August to Friday 4th September 2015.
VENUE:

Telstra Theatre - a multi-media auditorium in the centre of the CBD and adjoining the shopping district.

400 George Street, Sydney (near corner with King St.)

CONGRESS FLAG:

EXCURSION:
A one-day bus trip to Canberra, the Australian capital will occur on Wednesday, 2 September 2015. The main attractions will be a tour of the Australian War Memorial, which includes an extensive museum, and Parliament House, famous for its flag-pole roof.
EVENTS:

Confirmation of Attendance will occur on the afternoon of Sunday 30 August at the Grace Hotel (including informal welcome drinks) and on the morning of Monday 31 August 2015 at the Venue. You will receive a lanyard that will be your venue and event ID and a Welcome Pack.

The official welcome will consist of a sunset cruise on Sydney Harbour on Monday 31 August 2015.

A flag display will be held at Observatory Park overlooking the harbour on Tuesday 1 September. Bus transport will be provided from the Venue and returning, together with a light lunch.

Thursday 3 September 2015 is Australian National Flag Day, and the ICV delegates will join the annual public commemoration in nearby Martin Place at lunchtime.

There will be a closing dinner on Friday night, 4 September at the Royal Automobile Club of Australia.

COMPANION PROGRAMME:
Three activities for accompanying persons have been organised: a guided tour of the Sydney Opera House, a visit to Taronga Zoo and a coach tour of the Northern Beaches of Sydney. Each excursion will showcase Sydney and finish with an opportunity for a shared lunch and refreshments whilst leaving sufficient spare time for individuals to pursue their explorations. Enquiries will be welcome on any specific personal interests outside the group activities.
FEES & REGISTRATION:

Registration to attend the Congress has now closed. Details, fees and payment information are available at the Fees & Registration page. Early registration discounts ended on 29 May.

A Formal Registration and Payment form is available from here Registration Form ICV26 (A4).doc (or Registration Form ICV26 (US Letter).doc). The form can be downloaded, filled in on your computer and emailed to treasurer@flagsaustralia.com.au.

Registration and the addition of events or excursions closed on 17 August 2015 (at Midnight Sydney time). This is necessary to allow us to provide final numbers for event venues and to prepare identity lanyards. Registration and payment will not be possible at the welcome drinks nor at the door of the venue.

CALLS FOR PAPERS:
Many participants have responded to the call for papers and intend to deliver a lecture or talk on a flag topic of their choice. However, the number of available time-slots was limited, so the organisers have required lectures to be of a minimum standard. The time for lodged proposals to deliver a lecture has passed.
ACCOMMODATION:
Hotels have been identified that are close to the venue. Hotels are recommended on the basis of price, quality and location and a number of hotels have been listed in various price categories.
VISAS:
Visas are required for all visitors to Australia other than residents of New Zealand. Participants who are citizens of most European countries, USA, Canada, Japan and some other countries are eligible for an eVisitor visa or an Electronic Travel Authority that can be applied for on-line or through a registered travel agent or airline. Applications for a Visa must be made prior to travel and are not available on arrival.
SPONSORS:

The principal sponsors are:

Telstra Corporation Ltd - which is providing the venue;

Hunter Valley Coal Report - which has made a significant cash donation;

Vexventures - which is funding the printing and communication costs of the Congress; and

Pennant Advisory - which is sponsoring the FOTW meeting and providing funding support for the Congress budget.

CONTACTS:

Congress website: www.icv26.com.au

General Congress email: info@icv26.com.au

Chairman of Organising Committee: ralphkelly@flagsaustralia.com.au

Vexillological Programme Director: Tony Burton at papers@icv26.com.au

Congress Treasurer: Ralph Bartlett at treasurer@icv26.com.au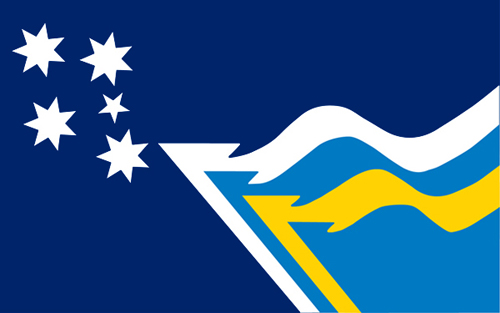 Flags Australia
Flags Australia is the operating name of the Flag Society of Australia Inc, which is a not-for-profit incorporated association that brings together individuals interested in researching, preserving and publishing information on Australian and international flags.
The Flag Society of Australia was established on 20 August 1983, in Melbourne, Victoria. The society is non-political and maintains a strict neutrality with regard to the continuing Australian Flag Debate - the question of whether or not the Australian flag should be changed. However, Flags Australia takes a keen interest in the issue and has published flag information about the Australian national flag and its usage as well as possible new flag designs.
In June 1984, the Society commenced regular publication of its official journal, Crux Australis, which is produced four times each year. The first and only authoritative flag publication produced in Australia, Crux Australis contains articles about Australian and international flags and associated matters.
Flags Australia has been represented at every congress since the 11th ICV in Madrid (May 1985) and in September 1989, the Society hosted the 13th ICV in Melbourne.
The main website for Flags Australia is www.flagsaustralia.com.au
Contact us by mail at either: Flags Australia, PO Box 233, Milsons Point, N.S.W. 1565 or PO Box 5245, Pinewood, Victoria 3149
Version 4 Updated 24.8.15
The principal emblems of Flags Australia are its flag and its logo. These and derivative approximations are copyright and may not be reproduced without permission or consent from Flags Australia. The Society's flag was adopted on 26 September 1989.